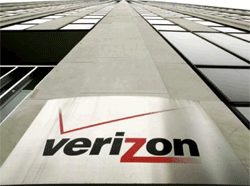 Verizon CEO Lowell McAdam blamed Apple yesterday for his company still lagging behind AT&T in iPhone sales.
Lowell explained in a conference call that because Apple has been slow in bringing the iPhone 5, to replace the iPhone 4, that is why AT&T is still leading in iPhone sales.
When Verizon started selling the iPhone in February, all the talk was about how disgruntled AT&T customers were going to jump ship and head over to Verizon.
Well that just hasn't happened.
In the 2nd quarter, Verizon's iPhone sales trailed AT&T's and fell short of Wall Street expectations.
Verizon activated 2.3 million iPhone 4's compared to AT&T's 3.6 million iPhones.
The AT&T iPhone sale figure is likely to increase dramatically with the new pricing discounts on refurbished iPhone 3GS's.
Looks like Verizon needs to step up the game a bit to compete with AT&T in the iPhone market.
via NYPost