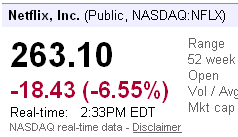 Netflix is starting to have their hands full on the PR front.
After the Netflix CEO made an announcement about some planned price hikes, customers have been sending out a rally cry against the movie streaming site saying that all Netflix cares about are their profits and not the customers.  
However, despite all the rhetoric about the planned price increases, Netflix CEO said that he's surprised there has been more fallout from the announcement.
But despite the fact that Netflix income rose 55 percent to $68 million, or $1.26 a share, from $43.5 million, or 80 cents, a year earlier, and their sales gained 52 percent to $789 million in the period, compared with analysts' projections of $790.5 million, Netflix shares (NASDAQ:NFLX) have taken a beating today on the NASDAQ.
Currently, Netflix shares are down -18.63 (-6.62%) and sitting at 263.08 with very heavy volume in trading.
via Bloomberg