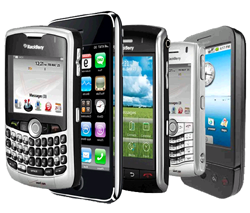 One billion is an awfully big number, no matter what the unit of measurement may be.  One billion dollars, one billion people, one billion fire flies – you name it, and any figure that begins with the letter "b" is a lot.  When it comes to smartphones sold globally, by the year 2016 it is expected that one billion will be sold each year.
That's right folks.  Not just one billion total, or billion over a certain number of years.  One billion smartphones (Android smartphones, iPhones, Blackberry smartphones, etc…) will be sold each and every year by 2016, according to IMS Research.
Here's what their research had to say about smartphone sales and growth: Sales of smartphones will exceed 420 million devices in 2011, accounting for nearly 28 percent of the entire global handset market, according to IMS Research, the leading independent provider of market research and consultancy to the global electronics industry. With the introduction of more affordable "entry-level" smartphones, IMS Research predicts that annual sales will surpass one billion devices by the end of 2016, accounting for one of every two mobile handsets sold.
The number and magnitude of the smartphone marketplace is substantial, and something that is even hard to comprehend in our minds.  Couple this with the growing level of mobile internet access, app purchases, and free apps available via platforms like iTunes and Android Market, and I believe we are aat the very beginning of a smartphone revolution globally.
What do you think about the fact that one billion smartphones could be sold each year by 2016?  And what about the fact that smartphone sales will exceed 420 million devices by the end of this year (2011)?
via PC Mag