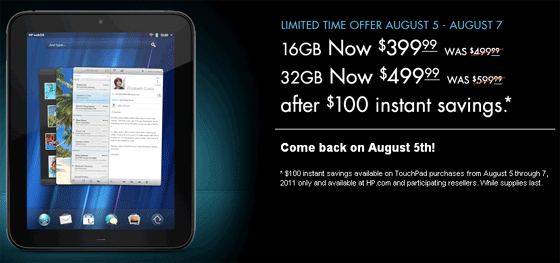 I remember about a month ago I was in a Staples here in Georgia and I saw the new HP TouchPad on display.  I started talking to a rep about the new tablet and he said that when the TouchPad first hit the store, there was a line going out the door.  Then, when the doors opened, the HP TouchPad sold out in less than an hour.
Well, if you were one of the many people who couldn't get their hands on the new HP TouchPad tablet, then this coming weekend might be your best bet.
HP announced via their website that they will be knocking $100 off the price of the HP TouchPad 16GB and HP TouchPad 32GB models.
The $100 price reduction comes in the form of a rebate – meaning, after you purchase the device, you mail in your rebate to get the $100 back from HP.
Here's the HP TouchPad sale breaking – taking place August 5 – 7
HP TouchPad 16GB – Regular price:  $499.99 / This weekend: $399.99
HP TouchPad 32GB – Regular price:  $599.99 / This weekend: $499.99
The deal is only available at HP.com and the sale will only run while supplies last.
Anyone wanna place the over / under on how long it'll take for them to sell out?
via HP.com