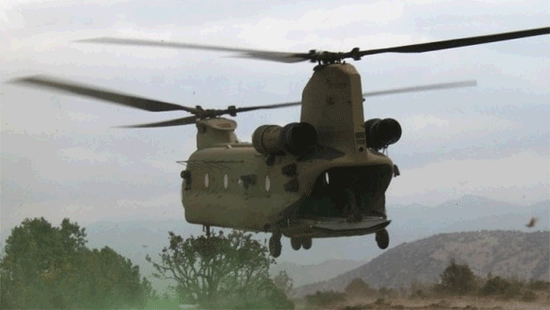 In the deadliest single attack against U.S. troops and allies in the history of the war in Afghanistan, 38 people – to include 31 Navy Seals – were shot down  and killed this weekend when their CH-47 Chinook helicopter was ambushed by the Taliban.
It was around 3am, early Saturday morning.  US Army Rangers were pinned down in a fire fight with Taliban troops.  Circling above, waiting for a call to come in for support, was a crew of 31 Navy Seals along with 7 other support personnel.
The Seals came in, got the Rangers out the jam, and then proceeded to load back up onto the Chinook.  What they didn't realize was lying in wait were Taliban soldiers who knew, somehow, the exact path the helicopter would take to fly out.
Once the Chinook was in range, the Taliban opened up with grenade launchers and took down the chopper, killing everyone on board.
The dead include: five Army crew members, 19 U.S. Navy SEALs and their three support troops, an Afghan interpreter and seven Afghan commandos plus three Air Force controllers and one military working dog. "Their deaths are a reminder of the extraordinary sacrifices made by the men and women of our military and their families," President Barack Obama said.
via Gizmodo