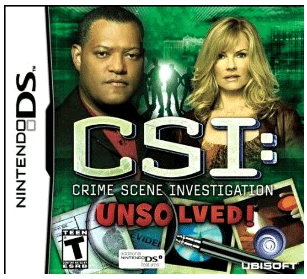 I had no idea that Amazon ran a video game deal of the day.
I've always known about the Gold Box deals which is where Amazon's main deal of the day is launched, never knew there was a video game deal of the day.
This has me thinking that there are other deals of the day categories that Amazon runs, but I'll just have to do some research to dig them up.
The deal of the day from the Amazon Video Game store is a winner for sure – get CSI: Unsolved for only $9.99.  This is a 50% discount from the normal price of $19.99.
More about CSI: Unsolved from Amazon.com:
Product Features
Eclusive to ypur Nintendo DS: Specifically designed with DS users in mind, CSI: Unsolved! makes the most of the DS Touch Screen for an improved pick-up-and-play experience.
Join forces with your favorite CSI characters from the hit CBS show, including Ray Langston (Laurence Fishburne) and the return of Sara Sidle (Jorja Fox).
Solve five different mysteries: Thanks to stylish visuals, heart-pounding interrogations, and unique touch gameplay, be prepared to feel like a real CSI in 5 different mysteries.
Toxicology screening, Bullets comparison, UV light for investigations and more!
Exclusive to Dsi users: Make use of the camera for exclusive lab and field work
Get CSI: Unsolved for only $9.99 here – deal only last a day!