Somehow, at the end of the day today, AOL's stock price (NYSE:AOL) bounced a bit and in turn, prevented a complete disaster from occurring.
At it's lowest point, AOL shares were down 31% during the trading day.  However, with the bounce at the end, the stock managed to close down only 12%.
At around 12 noon today, AOL shares were down nearly 20%.  But as you can tell from the graph below, the nose dive was only about half way through.
So why the disappointing day today for AOL shares?
The biggest cause for the drop was AOL missing on EPS.  On top of that, revenue isn't growing, even though AOL did post a gain in revenue in Q2 of 2011.  And finally, AOL continues pouring money into Patch, but Patch continues to not catch on in large scale.
Below is the chart that maps out AOL's stock price movement throughout the day (August 9, 2011).  Notice how at the end, somehow, AOL's stock price bounced: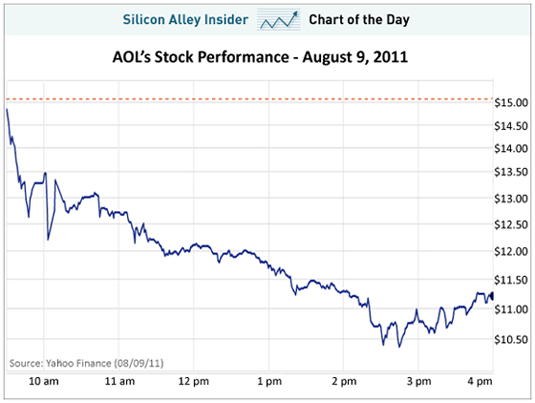 via BI