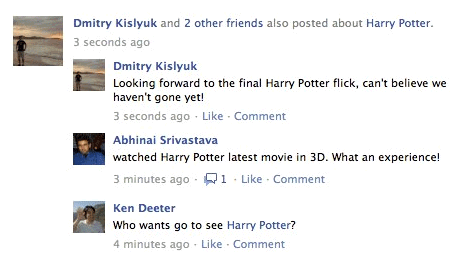 Ok, first of all I never realized that the official Facebook fan page has over 50 million fans.  Wow… that sort of caught me off guard (not sure why…).
Facebook announced they will be starting to group stories and updates in your news feed together by topic.  Facebook's objective is to show you the most relevant and interesting information, and this test is designed to show you trends among what your friends are saying.
And as is the case with most every other Facebook update, the people who are most unhappy about the changes are the first ones to pipe up.  Here's some of the initial reactions to Facebook grouping status updates:
—————
end it! It sucks
I think these news feeds that are grouped together are really annoying. I like it better the other way.
Hate it!
rubish, hate it.
Ridiculous…the adjustments made recently are confusing enough without more pointless changes being made. Whatever happened to the "simple" facebook -_-
Is this why I get posts all mixed up times ways ? I prefer them posted in the order they arrive !
so far, I am unimpressed
Bring back the old chat. Today only active online chatters are being displayed. Not showing anyone who is online and not using chat. WTF? Fix it!!!!!
This fails because language is too contextual & ambiguous. If I post about my hispanic friend Jesus, that post should not be grouped with another person's post about their god, Jesus.