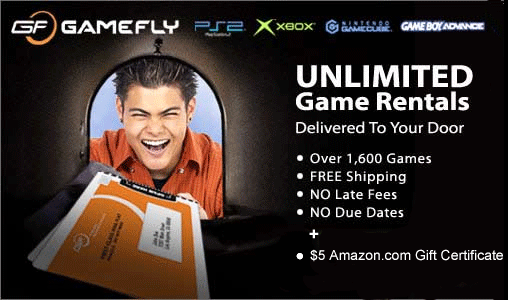 GameFly is basically the Netflix version of video games.  Pay a monthly fee, order your game, and ship it back to get your next game on personalized list.  The company is experiencing amazing growth right now.
Well it's about to get even better for GameFly subscribers because just yesterday, GameFly announced "Unlimited PC Play", a service that will allow gamers to download an unlimited number of games to their Windows or Mac computer.  This service is, again, very similar to Netflix's instant movie downloads (and now iTunes instant downloads).
GameFly currently provides access to over 8,000 rental discs and the new Unlimited PC Play will add an additional 1,500 games available for instant download all for a monthly fee.
The new Unlimited PC Play will be part of a desktop client that users will have to download and install.  But the client will have additional features for subscribers such as a news feed, HD trailers of up and coming games, and a social component that will allow gamers to interact – it'll be like the Facebook of gamers, with massive amounts of games at your fingertips.
GameFly's new Unlimited PC Play is expected to released in a closed beta on September 8 for current GameFly subscribers, and a global launch is scheduled for the pre-holiday season – just in time for massive Christmas spending at GameFly!
Here's GameFly's press release for Unlimited PC Play
GameFly Subscribers Will Have Access to Free PC Games
Digital Client Will Be The One-Stop Shop for Casual and Hardcore Gamers Alike
LOS ANGELES, Aug. 9, 2011 /PRNewswire/ — GameFly, Inc., the #1 online video game rental subscription service will be launching a new digital client, the one-stop shop for gamers, this holiday season. The biggest bonus for active GameFly subscribers will be the addition of free "Unlimited PC Play" which allows them to download and play as many Windows/Mac games as they want, from a large and ever-growing collection of titles. Gamers will have unprecedented flexibility in how they want to consume games, whether it is renting discs by mail from a library of over 8,000 titles, downloading any of the more than 1,500 Windows/Mac games for sale, pre-ordering new console and PC releases or buying used games – all managed via the desktop client. Casual to hardcore gamers can get all of their gaming information with up-to-the-minute news, a live feed and archive of HD trailers, videos, and screenshots, and a robust social component for real-time discussions of what's hot and what's not. In addition, users will be able to manage their entire library of games across all gaming platforms, as well as create custom libraries to share.
"We're thrilled to bring digital to the gaming consumer in a meaningful way, as no other service or retailer brings physical and digital gaming together like GameFly," said Sean Spector, GameFly co-founder and SVP of Business Development and Content. "With a library of over 9,500 titles from over 300 first- and third-party publishers, GameFly members have the ultimate choice of how, what, when and where they game."
GameFly will launch their closed beta at a Los Angeles event on September 8, 2011, exclusively for GameFly members. All attendees will walk away with beta codes for themselves and a friend. Gaming enthusiasts not in the Los Angeles area who want to gain access to the private beta can visit www.gamefly.com/beta. The digital client will launch publicly during the holidays, but for a sneak peak now, see the teaser trailer here –www.youtube.com/gamefly.
via BGR