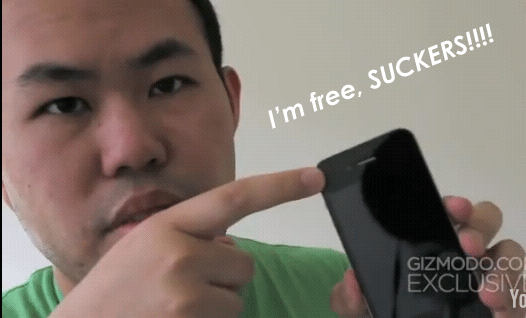 Remember the iPhone 4?
Wait… even more ancient, the days before the iPhone 4 were launched?
In tech years, that's like a lifetime ago.  But in those historic days (around March 2010, less than 1.5 years ago), do you remember when Gizmodo purchased an iPhone 4 prototype?  Well, finally, the California district attorney's office has decided to not press charges against Gizmodo or Jason Chen, the former Gizmodo editor who purchased and then posted a video of the iPhone 4 prototype.
Here's what the California District Attorney's office just released:
The San Mateo County District Attorney's Office has filed misdemeanor chargesagainst two individuals for the misappropriation of an iPhone 4 prototype that was lost byan Apple employee and subsequently recovered in a Redwood City establishment by thedefendants on March 25, 2010. Brian Hogan, 22, of Redwood City was charged withone count of misappropriation of lost property, and Sage Wallower, 28, of Emeryville, wascharged with misappropriation of lost property, and possession of stolen property.  
Their arraignment is scheduled for Thursday, August 25, 2011 at 9:00 in Redwood City. After a consideration of all of the evidence, it was determined that no charges would be filedagainst employees of Gizmodo. For questions about this case, please contact Assistant District Attorney Morley Pittat (650) 363-4785.1.
And here's Gizmodo's response to the California DA:
"We are pleased that the District Attorney of San Mateo County, Steven Wagstaffe, has decided, upon review of all of the evidence, that no crime was committed by the Gizmodo team in relation to its reporting on the iPhone 4 prototype last year. While we have always believed that we were acting fully within the law, it has inevitably been stressful for the editor concerned, Jason Chen, and we are glad that we can finally put this matter behind us."
via PC World