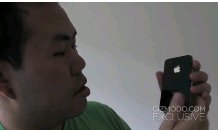 New Apple iPhone 4G Video from Gizmodo
I wasn't sure if this video was still going to be available to watch on the web today, since Apple's letter to Gizmodo hints at potential legal issues arising with Gizmodo.
But I check, and the iPhone 4G leaked video is still on the web so I wanted to get it posted for you all to see.
This video shows Gizmodo reviewing what is supposedly a leaked iPhone 4G that was found in Washington state, and then sold to Gizmodo for $5000.
Here's the new iPhone video from Gizmodo