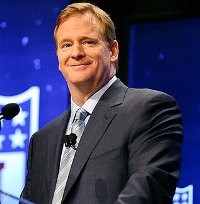 NFL Schedule Release Date Tonight on NFL.com
According to rumors that are buzzing around the web, the NFL is scheduled to release the 2010 NFL schedule tonight at 7pm from the NFL.com website. ESPN is also reporting the news, however, ESPN claims to already have the full schedule of who is playing who for the 2010 NFL season.
Here's a press release about the NFL schedule being released tonight at 7pm:
The complete NFL schedule will be unveiled exclusively on NFL.com on Tuesday, April 20 at 7:00 PM ET. At the same time on Tuesday, NFL Network will feature a two-hour special, NFL Total Access: 2010 Schedule Release Presented by GMC Sierra. It is a perfect occasion for "two-screen" experience with the NFL.
For fans who want to see their team's entire schedule immediately, NFL.com is the place to visit on Tuesday at 7:00 PM ET. NFL.com will be the first site to have the complete team-by-team and weekly schedules of all 256 regular-season games, listing opponents, sites and times.
Check out the NFL.com website tonight at 7pm to get the 2010 NFL schedule.