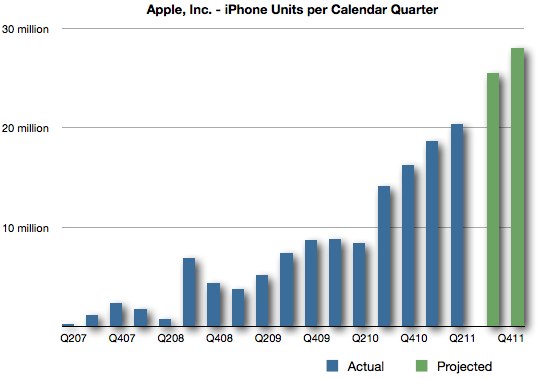 It's almost hard to believe, but here we are in the middle of August and we don't even have the iPhone 5 available to purchase.  Yet despite the current scenario, it is like that before 2011 comes to an end we will see Apple selling nearly 26 million iPhone 5 devices.
According to MacRumors, the projections for iPhone 5 orders for the 3rd quarter (July, Aug, Sept) have been decreased from 7 million units to 5.5-6 million units while the 4th quarter (Oct, Nov, Dec) orders have been raised from 14 million units to more then 20 million units. Meanwhile, iPhone 3GS and iPhone 4 unit shipments will decline correspondingly from over 20 million in the 3rd quarter to 8 million in the 4th quarter.
The Apple iPhone 5 is ramping up to be the most successful iPhone launch in history.  And as it typically the case, we can expect to see long lines, fast sell outs of supply, and nothing short of frenzy unfolding as people make the mad dash to pick up the hot new iPhone 5.