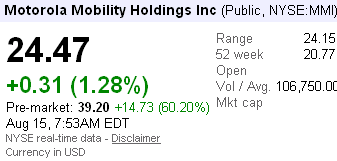 News is breaking this morning that Google is acquiring Motorola Mobility for an estimated $12.5 billion in cash.  Google is purchasing Motorola Mobility at a 66% premium, making this a huge deal for Motorola Mobility's stock price (NYSE:MMI).
Already, in pre market trading, Motorola Mobility (MMI) is up a whopping 60% indicating that Motorola Mobility shares (MMI) are going to open up sharply.
Google is clearly making a move to enter the hardware space in order to compete against Apple.  But as I've mentioned before, Google hasn't had the best of luck with hardware and manufacturing their own Android smartphones.
via Google Finance