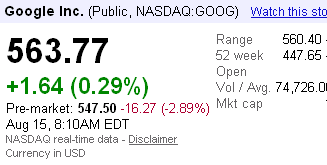 In the wake of the news that Google is acquiring Motorola Mobility, Motorola's stock (NYSE:MMI) price is up sharply, over 60% in pre market trading.
In contrast however is Google's stock price (NASDAQ:GOOG) which is down dramatically, and falling fast, in pre market trading.
The thought from the market is that Google perhaps overpaid for Motorola Mobility when they paid $40 a share ($12.5 billion in cash), even though this acquisition is around a 66% premium for Motorola Mobility.