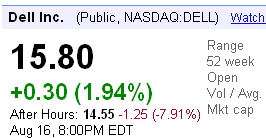 If you want to get a gauge on the health of the economy, then turn to a big brand consumer electronics companies and analyze their stock price forecast.
Dell shares (NASDAQ:DELL) are down nearly 8% in pre market trading this morning to second-quarter sales rising less than 1 percent to $15.7 billion, as reported yesterday.  Analysts estimates put Dell's revenue at $15.8.
Because of the missed forecast, and because Dell's outlook shows slowing consumer spending, Reuters is reporting that Dell has revised it's fiscal 2012 guidance and expects revenue to growth between 1%-5% from the previous range of 5%-9%. For the third quarter of 2012, it expects to see revenue roughly flat relative to the second quarter of 2011.
According to The Economic Times, Dell said growth in its enterprise solutions and services business, as well as the performance of India and China, drove the company's profitability in the second quarter.
"We continue to see great momentum in the high growth areas of our business, which is a direct reflection of the discipline and strong execution our global Dell team is applying to help solve real-world challenges for our customers," Dell Chairman and CEO Michael Dell said.