The east coast experienced something that it hasn't seen in a long time.  A 5.9 magnitude earthquake hit in the central Virginia area just before 2 p.m. today.  And the tremors from the earth quake were felt up and down the east coast.
The image map shows the central point of the 5.9 magnitude earth quake.  The yellow area is where the potential damage is deemed "light" and shaking from the quake is perceived as "moderate".
The earthquake was felt as far north as New Jersey and people in the New Jersey area believe it was probably the biggest earthquake felt in the area in a long time.
The quake's frequency hit the geology of the region just right, like a tuning fork, and reverberated outward, said Alexander Gates, the chairman of earth and environmental sciences at Rutgers-Newark, and an earthquake expert. But there's no likely danger for aftershocks of the Virginia quake, which will be significantly more minor, he said.
"That was pretty good, huh? I was impressed," Gates said. "You don't get earthquakes like that so often on the East Coast."
Here's the image of the earthquake that hit Virginia, and the east coast: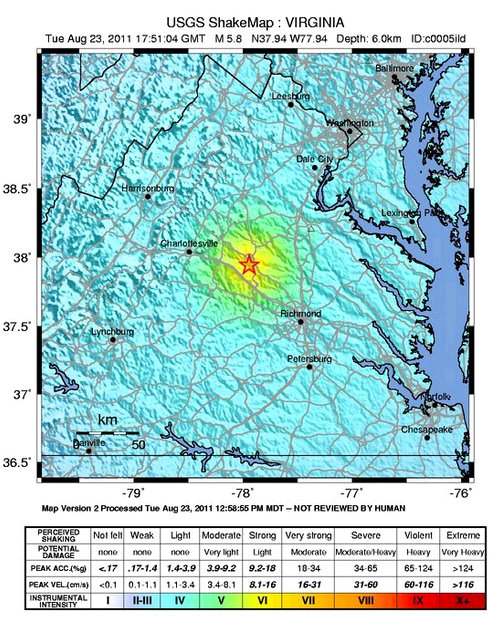 via NJ.com