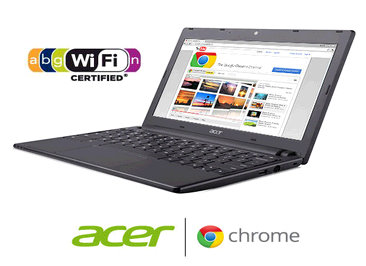 The future of computing could quite possibly be found in the new Chromebook.
What's a Chromebook you ask?  Basically it's a laptop built from the ground up to run on the web – and it's made by Google.
I just received an email from Google telling me that the Acer Chromebook is now available at Amazon for $349.  This thing cost less than brand new iPads and other Android tablets.
Get the Acer Chromebook at Amazon
One of the more impressive specs on the Acer Chromebook is that it boots up in 8 seconds or less and resumes instantly.  No more having to wait endlessly for your laptop to boot up – just hit start, and less than 8 second later you on the Chromebook surfing away.
Another really awesome feature with the Chromebooks is that it's the first consumer operating system designed from the ground up to defend against the ongoing threat of malware and viruses.
Here's some product information from Amazon:
Key Features of the Acer Chromebook:
11.6" HD Widescreen CineCrystal™ LED-backlit LCD: (1366 x 768) resolution, 16:9 aspect ratio
Dual-core Intel® Processor
2GB DDR3 Memory
Intel® Graphics Media Accelerator 3150
16GB Solid State Drive
1.3 Megapixel HD Webcam (1280 x 1024)
High-Definition Audio Support
Two Built-in Speakers
802.11a/b/g/n Wi-Fi CERTIFIED™
2- USB 2.0 Ports
1- HDMI™ Port
Full-sized Chrome Keyboard with dedicated keys for the web
Oversized, Multi-touch Touchpad
Memory card slot for storing photos, music, and video
6 hours of continuous use
3.2 lbs (system unit only)
Amazon product description
The Acer Chromebook is the future of computing. In a stylish simplified design with 11.6″ HD display, it's the ideal device for users who live and breathe online, craving the speed to go from one site to the next in an instant. Acer Chromebook is powered by Intel® dual-core processor, Chrome OS, and anywhere connectivity, delivering a ground-breaking user experience that's fast, simple, and unlike any other. State-of-the-art security keeps you protected each and every time you turn the Chromebook on. Now there's nothing standing between you and the web!
I like the concept of the Chromebook from a standpoint that I get so frustrated with my Windows laptop. It takes so long to boot up and is constantly freezing up on me. The user experience, for Windows anyway, has always been less than desirable. Yet somehow, in the midst of consumer frustration, Microsoft has prospered with the Windows OS. But then again, it could very easily be attributed to the fact that Windows has been the only alternative for quite some time.
Sure there's been Macs available, but in most cases people aren't going to spend the kind of money needed to pick up a Mac.
But with the Google Chromebook's fast boot up and ultra secure platform, plus with everything centered around "getting on the web", products like the Chromebook can start to chip away at Microsoft's marketshare domination.