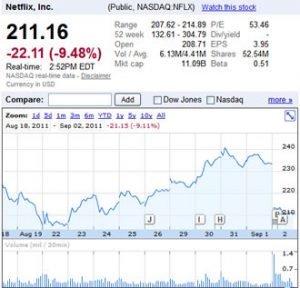 Starz Entertainment announced bad news for Netflix and it's users Thursday stating that they ill not renew their contract with Netflix.  The contract allowed Netflix to show a lineup of recently released movies and TV shows on their online interface. The setback triggered a nearly 9 percent drop in Netflix Inc.'s stock price.
That means Starz content will be removed from Netflix's streaming service starting in March. Starz' library includes movies from Walt Disney Co.'s assorted studios and, Sony Corp.
Both sides apparently disagree over the value of the content from Starz and how they should stream it to subscribers.
Netflix had been expected to work out a new contract with Starz, although at a much higher price than the estimated $30 million a year that it had been paying under the current agreement. Netflix CEO Reed Hastings acknowledged earlier this year that the company might have to pay as much as $250 million a year to retain the Starz rights when the current contract expires in February.
What makes matters worse for Netflix users?
Netflix made the decision to split DVD and streaming services before dropping Starz.
Netflix members found themselves faced with a tricky dilemma: to stream or not to stream? The video-streaming and DVD-by-mail company announced Tuesday that it'll be splitting its streaming and DVD services into two separate plans. One plan, an unlimited streaming-only option, will cost $7.99 per month. The other plan, an unlimited DVD-only option, will also cost $7.99 (for one DVD out at a time). Members can enroll in both services for a combined rate of $15.98 per month.
Netflix Users Searching for Streaming Alternatives
This now leaves many Netflix users angry since they now have a tough decision ahead of them.  It's tough for customers to process the new problems of increasing prices, split mail and streaming services, and the dropout of Starz lineup.  Stay tuned for our next article on Alternatives to Netflix Streaming Services!