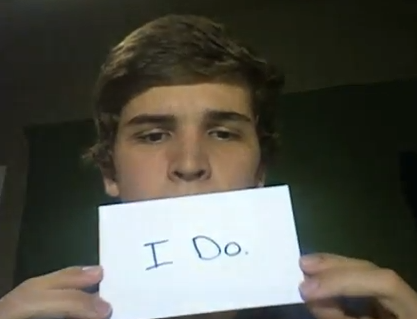 Ben Breedlove, from Austin Texas, died on Christmas Day, leaving behind a very powerful and touching Youtube video.  The Ben Breedlove Youtube Video is a viral sensation.
Ben had a nice following on YouTube and offered advice to kids his age.  His videos ranged from dating to SAT's and included wit and personality unlike most 18 year olds.
Just before Christmas Ben made a different kind of a video to his followers, a video that was very sad.  The video is of him holding up note cards rather than spoken words.  Ben share's to the world that he had a disease which he struggled with since he was born, called hypertrophic cardiomyopathy.  He says that he cheated life many times, starting when he was 4 years old.  Towards the end of the YouTube video he asks if we believe in "God or angels" and the next card says, "I do".
This video was created two days before Christmas.  Ben Breedlove died on Christmas day from his lifelong disease.  It's so strange how this video was created just two days before  Christmas and that he spoke out about his sickness to the world.  It's almost like he had a vision or some kind of a religious experience when he created the video.  Watch the video and share it, because Ben's courage is an inspiration to everyone.
Ben Breedlove's Story (Part 1)
Ben Breedlove's Story (Part 2)