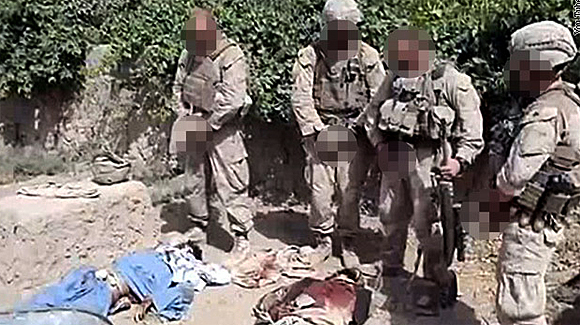 Yesterday an article popped up about US Marines video taping themselves peeing on  dead bodies, possible in Afghanistan.  Even though it's tough to see their faces and identify the soldiers, it's obvious they are U.S. Marine snipers.  People are going crazy over this video because of the shocking behavior.
The video has been shared across the internet.  Apparently you can here the following in the video:
One of the men says, "Have a great day, buddy."
A voice asks, "You got it on the video?" to which another voice responds, "Yeah." Another jokes, "Golden, like a shower."
"I have seen the footage, and I find the behavior depicted in it utterly deplorable," U.S. Defense Secretary Leon Panetta said in a statement. "I condemn it in the strongest possible terms."
Panetta said he has ordered the Marine Corps and International Security Assistance Force Commander Gen. John Allen "to immediately and fully investigate the incident."
"This conduct is entirely inappropriate for members of the United States military and does not reflect the standards of values our armed forces are sworn to uphold," Panetta's statement said. "Those found to have engaged in such conduct will be held accountable to the fullest extent."
YouTube Video of Marines Peeing on Bodies
Many believe these actions will cause an uproar in the international community. The US Marine Corp has launched an investigation.
YouTube Comments
Here are some comments I found on YouTube.  It's crazy how many uncensored opinions there are.