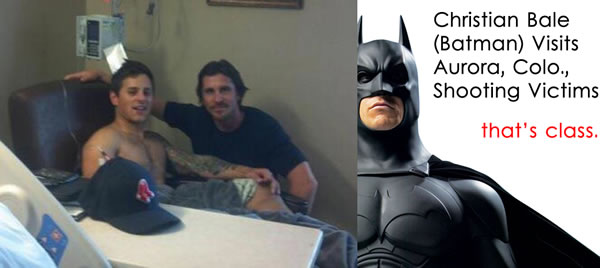 According to ABC News, Christian Bale, who plays the hero, Batman, in "The Dark Knight Rises," visited victims of a massacre that occurred at a screening of the film in Aurora, Colo., allegedly by a man who fashioned himself as Batman's comic book arch-enemy, the Joker.
Bale spent about two-and-a-half hours at the Medical Center of Aurora, Bill Voloch, the interim president of the facility, told the Denver Post, adding that he met with five people being treated there and two others brought in from another hospital.
"It was good for the patients," Voloch told the Post. "We hope it was therapeutic for them, and all the staff really appreciated him coming."
Petitions asking the actor to visit Aurora were posted on Change.org following Friday's shooting.
Over the weekend, Bale released a statement regarding the massacre, saying "Words cannot express the horror that I feel. I cannot begin to truly understand the pain and grief of the victims and their loved ones, but my heart goes out to them."