In an odd turn of events, Nirvana reunited for tonight's Hurricane Sandy relief concert at Madison Square Garden.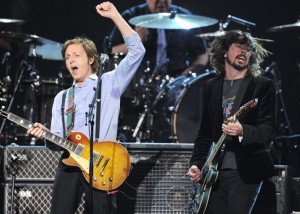 And no, Kurt Cobain is not back from the dead. Nirvana's Dave Grohl asked Paul McCartney to join him for a jam session with some of Grohl's old friends. After a while, Grohl and his friends were commenting on how good it felt to be back together. All the while, McCartney had no idea that he was playing with a reunited Nirvana.
"I didn't really know who they were," said 70-year-old Beatles legend Paul McCartney. "They are saying how good it is to be back together. I said, 'Whoa? You guys haven't played together for all that time?' And somebody whispered to me, 'That's Nirvana. You're Kurt.' I couldn't believe it."
For those oblivious to music history, Nirvana formed back in the 1980s, starting with Kurt Cobain and Krist Novoselic. Dave Grohl joined as drummer in 1990, which kicked off the band's legendary four-year run that ended in 1994 with the suicide of Kurt Cobain. Grohl went on to later form the popular Foo Fighters.
According to rumors, McCartney, Grohl, and Novoselic have been rehearsing since that first jam session sometime ago. The exact songs expected to be played by this reunited Nirvana is anyone's guess, though it would most hilarious to hear McCartney spit out the lyrics to Rape Me.
Other performers accompanying the reunited Nirvana are The Rolling Stones, The Who, Alicia Keys, Eric Clapton, Kanye West, Roger Waters, Jon Bon Jovi, and Billy Joel. The event's producers expect the concert to be viewed by approximately 2 billion people around the world.
Let's hope those 2 billion don't tune in to watch a reunited Nirvana bringing embarrassment on the original band's grunge-ridden image.