A 200-foot crane collapsed in NYC, hurting seven people, three of them seriously injured.
The crane toppled sometime around 2:30pm, in the New York City borough of Queens. It actually crashed into a two-story framework for a residential building, cutting through it "like a hot knife in butter," as one witnessed later said. The crane came to a rest sprawled across the broken framework.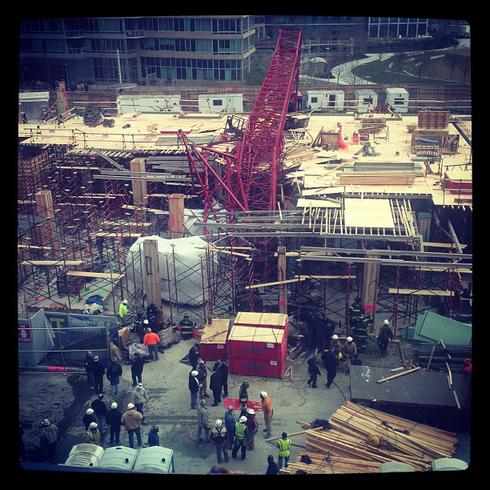 The three seriously injured had to be pulled from beneath the crane, and only one of them appears to have broken a bone. All three are now in stable condition.
Preston White, a carpenter on his first day on the job, said he heard a popping sound as he turned to speak to a friend. He turned back and "saw the cable whipping toward the deck. You could just hear it buckling." The crane then smashed into the framework and shook the scaffolding White was standing on.
The crane had only been up for four days, though it took much shorter to bring the whole thing down. Afterward, city officials investigated the scene using a cherry picker, and authorities had to rescue a few individuals injured from the incident.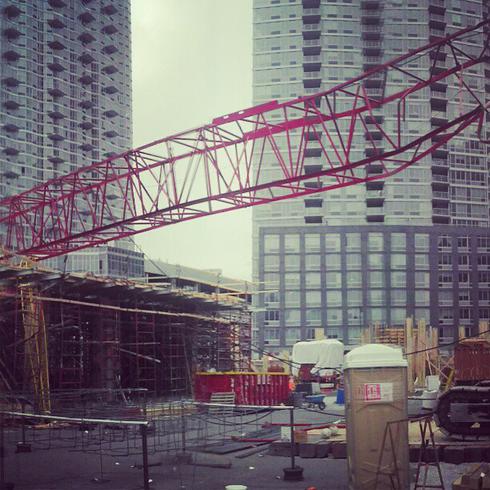 Many New Yorkers view these kind of cranes with suspicion ever since two of them collapses within two months of each other in Manhattan back in 2008. These two accidents killed nine people.
After those events, NYC created new measures to prevent more injured people due to collapsed cranes, such as hiring more inspectors and expanding inspection checklists, but it appears the measures have not gone far enough.
Another crane fell in April at a construction site, killing one worker. Another crane collapsed during Superstorm Sandy, though this one could be blamed on the winds and rain.
Still, cranes collapsing in NYC remains a problem, and today's incident proves much work must be done for the city to be safe.