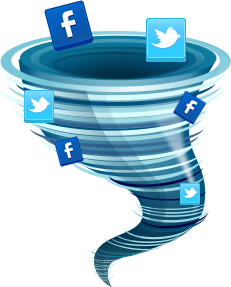 Representatives from every sector are climbing aboard the social media bus. Politicians are taking to Pinterest, tailors to Twitter, and financiers to Facebook, offering information straight from the expert. If you're seeking ways to improve your investments or looking for alternative analysis of the ever-moving money markets, here are some financial influencers from around the world who are making their mark on social media.
Ben Chu
Economics Editor of The Independent, Ben Chu heads the newspaper's blog and offers a Twitter profile too. He provides personal views on the economy in both a national and international capacity and has a Twitter following of more than 2,800. Bankers beware, Chu's economical insight and sharp writing allow few of the financial world's discrepancies to slip through the net unnoticed.
Christine Lagarde
The managing director of the International Monetary Fund (IMF), Christine Lagarde is active on Twitter and offers insights into the global economy. If you'd like to find out where the world stands financially, analyse the challenges ahead, and access the latest reports, Lagarde is most certainly one to watch.
Chris Smith
@AwesomeFinance
With so many people up to their eyeballs in debt, it's no surprise that many young adults haven't got the foggiest idea how to manage their money. Chris Smith of Awesome Finance is here to change that, offering simple strategies to help you understand the fundamentals of finance. His hints and tips extend from investing in long-term funds to necessary everyday spending, and how to get the most out of your cash. He's the "man on a mission – to raise the personal finance IQ of young adults everywhere."
Irene Aldridge
Author of High-Frequency Trading: A Practical Guide to Algorithmic Strategies and Trading Systems, Irene Aldridge's financial expertise can be accessed online as well as on paper. With a regularly updated Twitter feed, she gives insight into high-frequency trading and more.
David K Waltz
David K Waltz is a Fortune 500 Financial Officer with a Twitter following of 5,282. He writes the Treasury Cafe blog, which empowers people in the strategy and finance sectors with tools, information and insights.
Whether you're a long-term investor, new to the money market, or work in the industry, you'll find financial influencers ready to advice and inform on social media platforms.