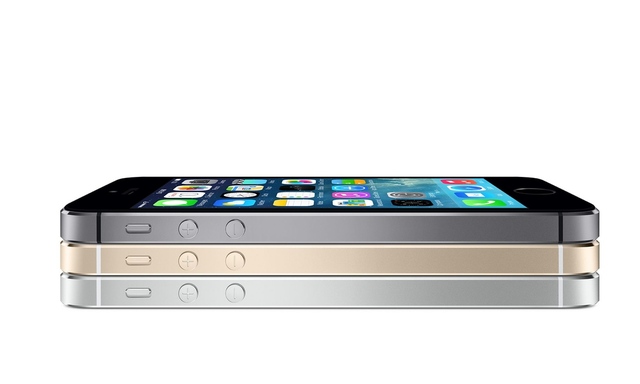 Now that the iPhone 5S is no longer a rumor, you are probably wondering what's new with the new iPhone 5S. The overall design and the 4-inch screen of the new iPhone 5S are the same as the discontinued iPhone 5, but its feature set is absolutely new.
Apart from the black (or apparently space grey) and white variants, the iPhone 5S is now available in a gold and white version as well. Latest news is that a dual-band a/b/g/n 802.11 Wi-Fi is also included the iPhone 5S (and the Bluetooth 4.0 like in the discontinued iPhone 5 is also included).
If you buy the iPhone 5S, you will also get iMovie, iPhoto, Keynote, Numbers and Pages for free.
Processor & Graphics
On board the iPhone 5S is a 64-bit Apple A7 chip with over a billion transistors (so it supports both 32-bit and 64-bit apps). In comparison to the discontinued iPhone 5, the iPhone 5S is twice as fast and almost 56 times faster than the original iPhone. Along with iOS7, a native 64-bit kernel, drivers and libraries are also included in the package. With an OpenGL ES 3.0, the iPhone 5 features twice as fast graphics.
Camera
The camera is an 8 megapixel device with a bigger sensor that features a f/2.2 five element lens designed by Apple. The camera supports 1080p video with 720p 120fps slow motion, along with a burst mode as well. Another new thing that is a part of the camera package of the new iPhone 5S is the long-rumored and much-anticipated dual-flash.
Touch ID
On the iPhone 5S' home button also has a fingerprint reader, which is certainly something that is new. The sub-epidermal skin layers are scanned by it at 500ppi, which is rather incredible. It also features 360-degree readability, which means you will be able to access your phone at all times without reorienting your finger.
Release Date & Price
So, this just about sums up all what's new with the new iPhone 5S. The iPhone 5S is scheduled to be released on September 20 and you can start pre-ordering it from September 13. Depending on the storage of the iPhone 5S version you intend to buy, you can expect to set yourself back anywhere from US$749 to US$849.