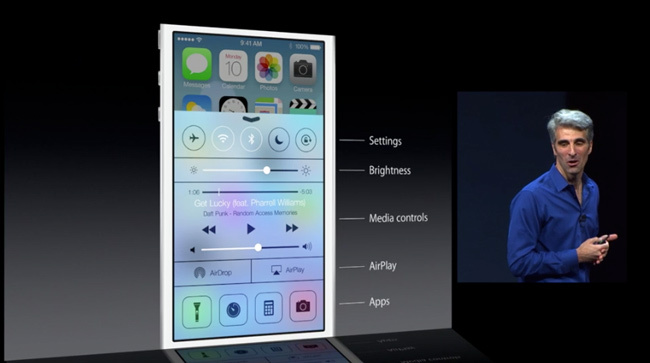 Apple has always been the brand setting high standards in the smartphone arena. Whether it be swanky features in its each new ios or startling looks of the iPhone, Apple has been setting the benchmark to compete with. But with Microsoft and Google right on its tail, one can expect the smartphone war to spice up in the near future.
With the launch of two new smartphones, iPhone 5S and 5C, Apple already has the attention of everyone. And its a very smart move by Apple to launch the ios 7 update on September 18, just a few days after the launch of its two new iPhone. Microsoft has already released its Windows 8 platform for the smartphone and with Google too planning to release the latest version of Android to replace the existing Jelly Bean, its going to be interesting to see how the new ios 7 stack up against these two.
So, what should we expect in the new ios 7 update?
First of all, although the new update is available on iPhone 4 and later, iPad 2 and later and iPad mini, the owners of older devices would not be able to enjoy all the new features and will surely feel left out. But there are going to be plenty of hidden features that would be unlocked by the new update for them as well.
Apple has finally come up with the torch for all the iPhone. Just press the button and use the LED flash as a torch to find your keys or door lock in the dark. Now next time when you would swipe down you will find an all new Control Centre making it much easier to control Wi-Fi, Bluetooth, adjust the brightness and play or skip music, a welcome change.
Do not Disturb. Although it was there on the ios 6 as well, it was way underused and mainly overlooked, the reason why is because it was buried down in the settings. Luckily in ios 7 Apple has moved it to the Control Centre making it easier to access.
An all new Search. Just swipe down on the home screen and find the search box, users are no longer needed to swipe to a dedicated screen to access search.
Password Problem, not anymore. Well you no longer need to remember your multitude of login accounts or even your credit card details. Now Apple would store them in iCloud and fill in automatically the next time you login.
Camera got Wider. That's right all the iPhone 4 and later can shoot in a larger Panoramic Format. Also one can focus with the volume button- neat.
Sharing made Easier. One complaint that Apple always have dealt with is the frustrating experience while sharing files or media. The users were required to send text or email to share but not anymore. Apple has finally come up with AirDrop, enabling the user to share files via Wi-Fi or Bluetooth with the people nearby.
But unfortunately AirDrop would only be available to iPhone newer than the fourth generation. Another astonishing feature, the Fingerprint ID Function, would also be available only on the newer devices. What else we can expect, that would be revealed with the launch of ios 7 on September 18.
Apple has made some fantastic changes to the existing ios to make the smartphone experience a better one, but is it enough? Of course we'll only find ou ton September 18th. Will you download the IOS 7 update right away? When we updated to the latest IOS 6 version, we had no problem, but we had tons of users reporting problems, bugs, and issues after upgrading to IOS 6.