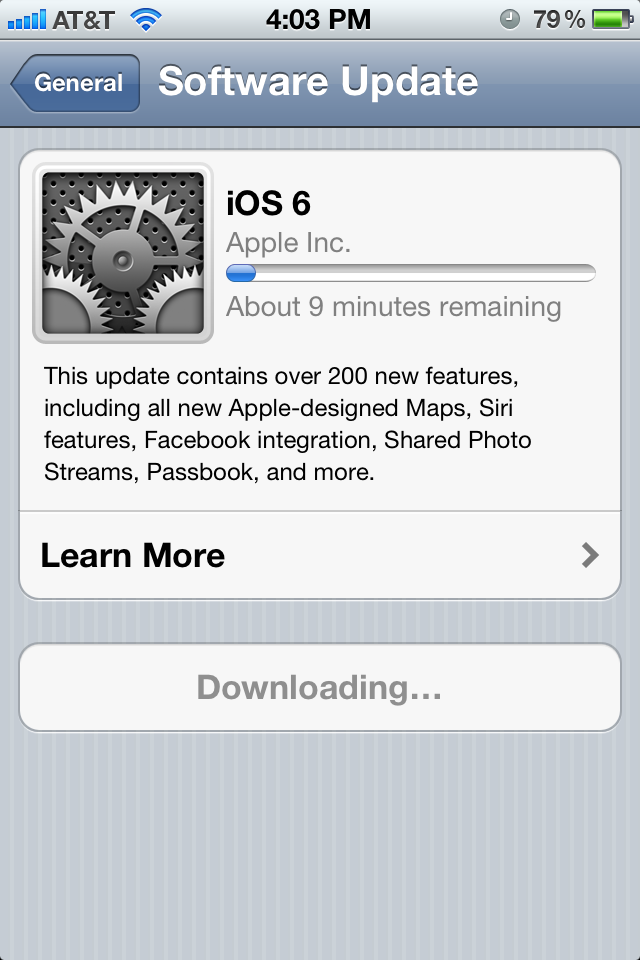 Well, it's here, the long awaited iOS 6 update for your iPhone or iPad.  My first thought is, should I update my phone now or wait?  Often with new releases of software like this there are bugs and errors.  I'm afraid the iOS 6 update will cause some kind of a problem or error.  The other big thing that scares me is the fact that there will be no more Google maps and Apple's map system will replace it.
How to Upgrade Your iPhone to IOS 6
It's simple, go to settings > Wi-Fi and make sure you are connected
Now that you're connected go to settings > General > Software Update > then download
You may want to be plugged into a power source or turn down your brightness like I did.  Good Luck!
iPhone / iPad  Errors After IOS 6 Upgrade?
I haven't heard of any issues yet and my update is still downloading.  If I find anything strange I will definitely list it here.  Alternatively if you have an error after your iPHone IOS6 update, please list it below in the comments and we'll see if there are others with the same issue and if there is a fix.
Here are some current solutions to IOS6 Bugs: