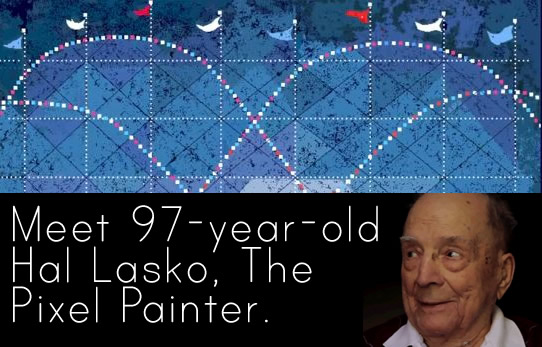 You know I do a lot of my paintings with my eyes shut? – Hal Lasko
Hal Lasko worked as a graphic artist creating typography when everything was created by hand.  It wasn't until recently his family introduced him to Microsoft Paint.  Now he's a master at Microsoft Paint "Pixel Painting".  Basically he meticulously creates pixel paintings pixel by pixel. He says he would spend hours on one little section if he needed to, because he has patience.  His paintings are amazing because he's doing the opposite of what many graphic designers do.  Instead of getting rid of choppy pixels, he's making them.  You can visibly see them in his paintings that are hung in a local art gallery.  This could be one of the coolest things I've seen.  What patience and passion.
If it takes me 2 years to do that I can spend it. I've got a lot of patience, that's what you really need anyway.
Director: Josh Bogdan (joshbogdan.com)
Director: Ryan Lasko
Editor/Writer: Josh Bogdan
Director of Photography: Topaz Adizes
Original Music: Jarrod Pedone
Original Music: Tyler H. Brown (thbproductions.com)
hallasko.com