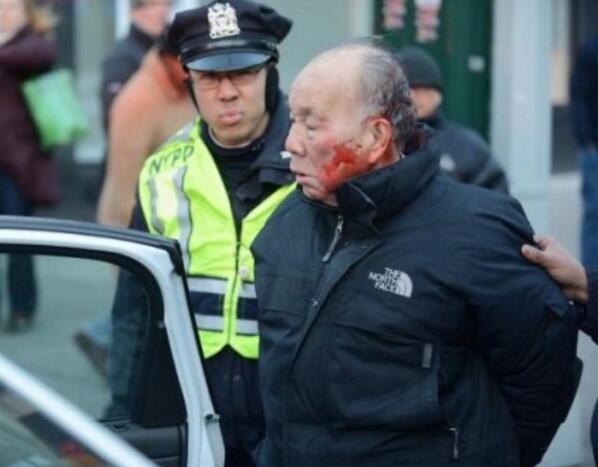 image via @shlomiehecht
Kang Wong, 84, was jaywalking on New York City's Upper West Side on Sunday when police stopped him and attempted to issue him a ticket for the time-honored infraction among New Yorkers. Not too long after, Kang was in the hospital then sent to jail.  The New York Post reported Kang Wong tried to walk away during the ticket and didn't speak English.
"The guy didn't seem to speak English. The cop walked him over to the Citibank [where the officer] stood him up against the wall and was trying to write him a ticket," Fordham University law student Ian King, 24, told the Post.
"The man didn't seem to understand, and he started walking away," King continued. "The cop tried to pull him back, and that's when he began to struggle with the cop."
"As soon as he pushed the cop, it was like cops started running in from everywhere," King added.
Kang Wong's son wen to the police station where he was held and apparently the cops were giving him the runaround not telling him what the charges were.
"The cops are playing games. They won't tell me what he's being charged with," the son initially told reporters.
After learning that his father's arrest stemmed from a jaywalking incident, the son said, "Oh, great! Beating up on an 84-year-old man for jaywalking."
Wong's son added that that police prevented him from seeing his hospitalized 84-year-old father until 10 p.m. Sunday, referring to him as a "prisoner," while adding that the family "will probably press charges."