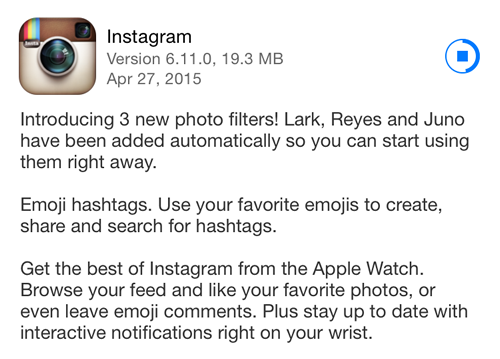 Emoji Hashtags
Instagram has updated the iOS and Android app and finally the emojis feature is added for hashtags that means you can now write hashtags in Instagram with emojis and search the posts based on emojis. Moreover, Instagram has also given three new filters for the Instagram users in the new update.
In a statement, Instagram said that emojis are becoming the cardinal part of the social media messaging and interaction around the web. The new emoji support for hashtags in Instagram will give the users the ability to write emojis in hashtags and search by typing emoji in the explore page of the app.
Three New Instagram Filters
Instagram has given three news filters in its new app for Android and iOS. These filters are Reyes, Juno and Lark. Reyes filter gives a hazy, old type vintage look to your photos. Lark adds bluish green tone whereas the Juno filter will add tints and tones in different colors.
The new updates will start rolling out for Instagram users around the world within this week.
Updated Instagram Icons and Commenting
It appears Instagram also updated icons for likes and added one for comments. When you click on the comment icon it now jumps to the comment section. It seems they did this to take up less space…Users probably won't even notice a change.