If you try to download a video from Facebook, one of the first thing you'll probably realize is that Facebook doesn't have a 'download' or 'save' option. In fact the only way it can be done is by using third party software or online platforms, but these options have limitations and drawbacks of their own.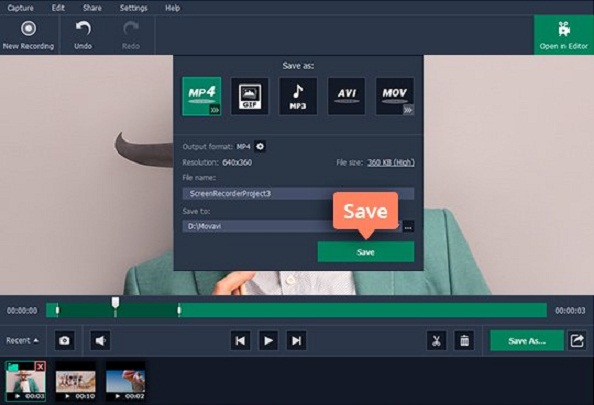 Instead of trying to download the video directly however, you could use Movavi Screen Recorder to capture Facebook videos from your screen. That way you can save them after you do, and would effectively have a copy of them in the form of a video file.
How to Record and Save a Facebook Video to Download It
As you can imagine you will need to download and install Movavi Screen Recorder before you can begin, which is really quite easy using the installation wizard. After it has been installed, you should open up the Facebook video that you'd like to 'download', but pause it if it starts to automatically play.
To start setting up Movavi Screen Recorder to save the video, launch it and draw a frame over the video using your mouse cursor. The interface will appear when that's been done, and you can adjust the frame to make it more precise or use one of the presets under the 'Capture Area' list on the interface if you prefer. If you'd like to record the Facebook video in full screen, click on the name of your monitor under the 'Full Screen' section of that list.
Assuming you'd rather not have to wait till the recording is done and manually stop it, click on the 'alarm clock' icon on the interface. In the window that appears you can then set a timer that corresponds to the video duration, so that Movavi Screen Recorder automatically stops recording after it elapses.
While there are other parameters that you could adjust such as the audio source, volume levels, or frame rate – you generally don't have to if you want to record a Facebook video. Instead you can press 'REC' to have Movavi Screen Recorder start recording, and play the Facebook video after you do.
After the video is done you can click 'Stop' to stop recording, or if you set a timer it will automatically stop. At that point Movavi Screen Recorder will automatically save your video as an MKV file and open it in a 'Preview' window for you to go over it.
That 'Preview' window in Movavi Screen Recorder will provide you with the option to trim out any parts that you don't want that may have been inadvertently recorded. On top of that you can save any changes that you've made, or save the video in a format other than MKV.
By using Movavi Screen Recorder to 'download' videos from Facebook, you won't be subject to any limitations. More importantly it won't take long to set it up and start recording the video that you want to save.