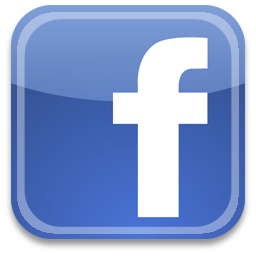 There is an amazing development that is about to be unleashed on the mobile Internet world!
The Facebook 3.0 iPhone App has been submitted to Apple for approval in the Apps store, and when it comes out officially, it is going to revolutionize the way businesses are able to perform "permission based marketing" while on the go!
And please don't even question whether you think the Facebook 3.0 iPhone App will not be approved, because as Steve Hewitt points out, Steve Jobs (founder and CEO of Apple) demo'd it recently at a conference.
Why Facebook 3.0 iPhone App Is Important For Business
As I've tried with the current Facebook iPhone App, Facebook Fan Page admins are not able to post to their page and have it go to all of the fans of that page.
The postings that I've sent have only made it to the page itself.
The whole point of having a Facebook Fan Page is to send out broadcast messages (Twitter style…) to all of your Fans – and then have your Fans engage in conversation both with you, and with the other fans.
Being able to broadcast updates to your fans allows you to now be even more personable with your audience – sending updates and keeping in touch with your fans on a more personable level, where ever you are!
The Facebook 3.0 iPhone App will allow you, a business owner with a Facebook Fan Page, to engage in conversation with your audience in a more efficient manner.  Allowing you to respond to questions and discussions more efficiently from your iPhone.
You'll no longer have to struggle with not being able to send out broadcast messages to your fans through your Facebook Fan Page on the iPhone.
The New Facebook 3.0 iPhone App Fixes That
From everything I've read so far, the new Facebook 3.0 iPhone App has been designed to facilitate Facebook Fan Page management – both as an admin of a Facebook Fan Page, and as a fan of pages.
You'll now be able to join Facebook Fan Pages, and as admins, send out your messages to your fans just like you can on a desktop.
Facebook 3.0 iPhone App Might Actually Be Easier
I know I'm not alone when I say this, but trying to manage your Facebook Fan Page can be a bit cumbersome from the a normal browser.  When you login, you typically default to your personal profile on Facebook.  And getting to your Facebook Fan Pages takes a bit of clicking around to get to.
The Facebook 3.0 iPhone App seems to fix this problem entirely by having an icon you click that is specifically for Facebook Fan Pages.
Take a look: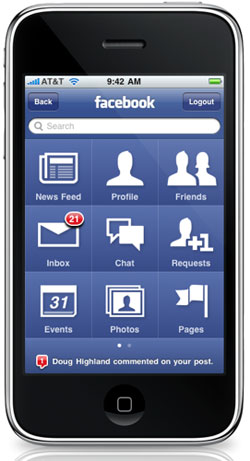 What I like about this dashboard is I can click to my profile, or my pages, quickly and easily without having to click through to different locations first – it's all right there in front of you.
So as a business owner, I first recommend you starting your own Facebook Fan Page, then I recommend getting an iPhone and grabbing the Facebook 3.0 iPhone App as soon as it's released.