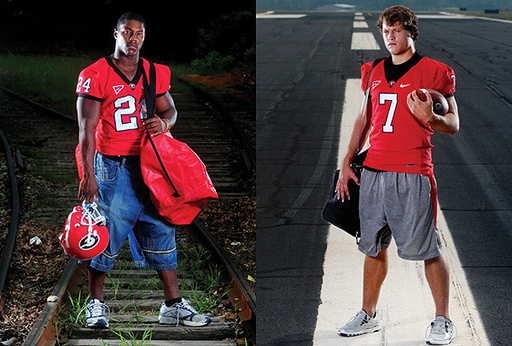 So are you as excited as I am about the upcoming football season?  And I'm talking about both the college football and pro football season here.
I'm a Georgia Bulldogs fan actually (please don't flee from my blog just yet…), and I have the luxury of living here in Athens, Georgia (home of the Dawgs).
Living in a college town like Athens, you get to not only see the excitement of SEC (South Eastern Conference) football, but you actually get to be a part of it!  The massive fans, the crowded streets on game day, the RV's that come rolling into town here in Athens – it's all nothing less than awesome!
And if you live in a college town, or are an avid fan who actually shows up with 90,000 other fans on game-day, then you know what I mean.
I have to admit though, that this is the first year that I'm going to experience a football season AND be so tuned into social media – at the same time!
With the innovative mobile phones and data devices that are now common place, sharing experiences about your favorite team, and discussing the game as it's happening, has never been easier.
I remember just a couple of weeks ago when the NFL pre-season kicked off and seeing massive updates coming across Twitter.  And terms like "Bills", "Ravens", etc… were surficing as the top trending terms on Twitter.
Imagine if Twitter had a commenting system like Facebook has where people can actually comment on updates – we'd see massive conversations unfolding on Twitter right before our eyes.
And look at the new iPhone 3GS for example.  The new iPhone has a video camera and video editor that will allow you to take video, edit it, and instantly upload it to your blog or YouTube!
So with the Georgia Bulldog's first kickoff only 15 days away, I'm excited to not only see the season get underway, but I'm also looking forward to seeing how social media – Twitter, Facebook, iPhones, Blackberry's, Treo's, etc… – changes the landscape of fan interaction before, during, and after the games!
GO DAWGS!