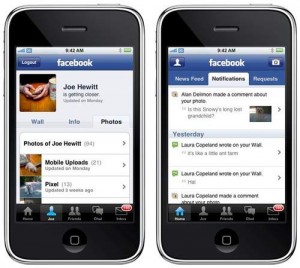 Currently, the best Facebook iPhone App is version 2.0.  This is a great app for personal Facebook profile interaction with family, friends, etc…
This leaves one major problem though for businesses, products, and brands that use Facebook Fan Pages.  And this is the #1 problem with current Facebook iPhone Apps – lack of Fan Page integration.
For example, there isn't a way to access a Facebook Fan Page from the 2.0 version.  Normally, on a desktop you'd just have to go to your profile, click the info tab, and scroll down to see all of your Fan Pages.
But on the current Facebook 2.0 iPhone App, it just isn't there.
I've experimented with other ways to access Facebook Fan Pages on the iPhone, but the results were disappointing.  Basically, I went to the Safari browser on the iPhone, accessed my Facebook Fan Page and then added it as a homescreen app.
The major problem is that the updates you send through your Fan Page via the browser on the iPhone does not broadcast out to all the fans of your page.  The update will show on your Fan Page, but it will not broadcast to all the fans.
And in my opinion, being able to broadcast to fans is one of the most important features of Facebook Fan Pages.
It looks like the Facebook 3.0 iPhone App is going to resolve this Facebook Fan Page issue however.  There is an icon specifically for Pages, and with the app being designed for pages, the broadcasting should work just fine.
That's yet to be seen though since Facebook 3.0 has only been submitted for review and hasn't yet been released by Apple.
Here's a screen shot of Facebook 3.0 iPhone App