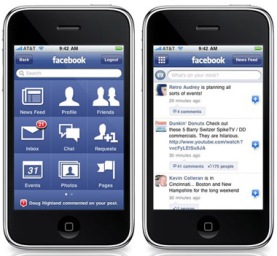 Facebook 3.0 iPhone app makes managing, updating, and even joining Facebook Fan Pages from your iPhone easy!
Here's how to you do it
1) Get the Facebook 3.0 iPhone App for your iPhone
2) Sign in to your Facebook profile.   Your news feed should be your default view once the app opens.
3) Click the box in the upper left corner that has the 9 small squares in it – you'll be taken to your Facebook dashboard.
4) Click "Friends"
5) On the bottom of your screen you'll see 2 options:  "Friends" and "Pages" > click "Pages"
6) You are now looking at your Facebook Fan Page management screen – you'll see "My Pages" at the top which are the Fan Pages you currently admin, and you'll see "Fan Pages" at the bottom which are pages you are currently a fan of.
7) Click a page to view that Fan Page
8) If you want to add the Fan Page to your homescreen / dashboard then once you open the Fan Page, look at the upper right hand corner of your screen and you'll see a box with an arrow shooting out of the it > click that box > select "Add Favorite" > and that Fan Page will now be added to page 2 of your Facebook iPhone dashboard.
You can move the app icons around on your dashboard the same way you do on your normal iPhone dashboard.  Just tab and hold on an icon until it start wiggling, then drag the icons to where ever you want to place them.
If you want to move the icons from page 2 to page 1, drag far left and it will jump to page 1 (vice versa for moving icons to page 2).