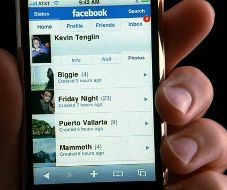 In case you haven't yet heard, the Facebook 3.0 iPhone app is now available for download in the app store.
I've already tested the Facebook Fan Page on the new 3.0 iPhone App and let me tell you – it's smooth, sweet, and awesome!
The previous version – Facebook 2.0 iPhone App – did not have Fan Page features.  And because of this, you had to add a Fan Page to your iPhone through the Safari browser.
And as I wrote about previously from this experience, when updating your Fan Page as an administrator, the update posted to the page, but did not broadcast to all the fans.
And as I stated before also, the broadcast functionality is the most critical component for having a Facebook Fan Page.  Second most important component is the conversation features.
But with the new Facebook 3.0 iPhone App, those problems are long gone!
You can now send an update through your Facebook Fan Pages, and I confirmed with my test, the updates did broadcast to all of the fans.
Read this post to learn how to manage Facebook Fan Pages from your iPhone with Facebook 3.0 iPhone app.