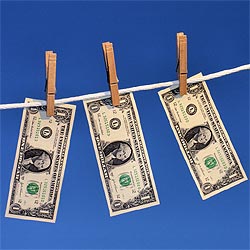 I just read an article about USocial, an scial networking firm that actually sells you Facebook fan and friends.  Actually, what it sounds like they're doing is getting paid to spam other Facebook members.  Pay your fee for "x" number of fans or friends, and they will make sure you get them.
The problem with this, however, is that most people would consider this spamming!
Facebook is not very accepting of spam.  Both Facebook policies, and the users of Facebook, are very averse to anything that's associated with spam.  Typically, if Facebook doesn't shut your profile down for spamming, then members will report you to a point where you end up getting shut down anyway.
And ultimately, for the client, since you are not naturally building relationships with followers and fans, the prospective audience of fans would be considered low quality.
Buying Facebook fans or friends is creating quite a bit of controversy in the business world.  On the one hand, a business sees it as simply a law of numbers.  The more fans or friends you have, regardless of how you acquired them, you're still going to get a small percentage of them to buy from you.  So build the number as high as you can, and let the laws of probability work the rest out.
The other school of thought, and the one in which I believe is the best, long term strategy for any business, is to build your fans and friends naturally.
The way you build Facebook Fan Page fans naturally is by producing great content, products, or services that others are willing to talk about and share with others.  As your business brand and name spreads, the more people will be willing to become a fan of your Facebook Fan Page.
As you build your fans naturally, you know without a doubt that your marketing message is reaching an audience of people that already know about you, like what you offer, and are ready and willing to hear from you.  Making the "natural" process of building fans a much more profitable path for a business to take.