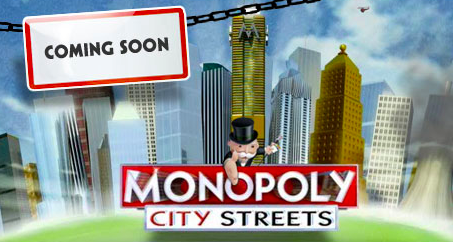 This is the cool thing ever!  The famous Monopoly board game is about to launch an online version utilizing Google Maps as it's platform.
It's called Monopoly City Streets, and it's the ultimately mash up for online gaming!
Here's a description from the Monopoly City Streets website:
On the 9th SEPTEMBER, a world of property empire building on an unimaginable scale will be launched! A live worldwide game of MONOPOLY using Google Maps as the game board. The goal is simple. Play to beat your friends and the world to become the richest property magnate in existence.

Own any street in the world. Build humble houses, crazy castles and stupendous skyscrapers to collect rent. Use MONOPOLY Chance Cards to sabotage your mates by building Hazards on their streets.

Which strategy will you employ? Determined drive? Ingenious daring? Intelligent caution? Will you thrive under the pressure of a fast growing global property empire – or will you crumble? Find out if you'll thrive, or even survive, in the amazing world of MONOPOLY City Streets. It's going to be epic fun!
Monopoly City Streets, which is a mashup of Hasbro and Google Maps, will official launch for a 4 month period on Wednesday, September 9th.
Although we aren't sure whether Hasbro is officially working with Google Maps, or simply utilizing their API, one things for sure – this game is going to very interesting to watch, and play!