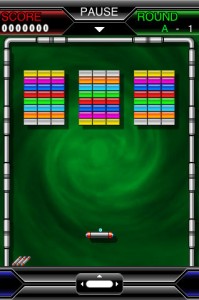 Just when you thought the iPhone couldn't get any better – ok, maybe you didn't think that – we all now have one more thing to be excited about!
Taito's classic Arkanoid arcade game is now available in the App Store for only $4.99.
What I love more than anything is the identical sounds that you got on the arcade game – simply amazing that we are now playing this on the iPhone!
Here's some additional features that Arkanoid for the iPhone has compared to the arcade game:

Over 100 stages
Branching level progression
Many boss battles
VS two player mode
Check out the video that shows you Arkanoid for the iPhone: