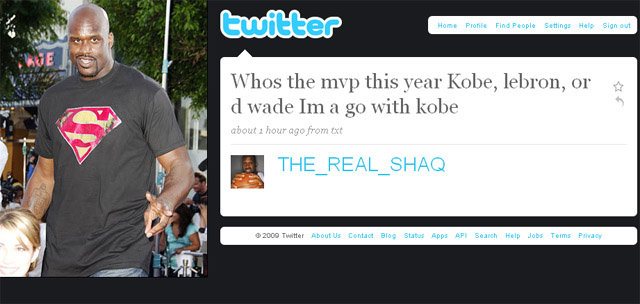 There is not shortage of buzz around Twitter and professional sports, nor any shortage of buzz at the college level either!
The latest in the Twitter policy announcements comes from the Milwaukee Bucks.  The Bucks have officially stated that Twitter use is banned while on you're on the clock.
That covers any and all times while that players are at work – practice, games (both home and away), and any other official Milwaukee Bucks activities.
The Bucks head coach  Scott Skiles said Monday at the team's media day that, "their free time is their free time and their work time is their work time – I don't think there's anything unreasonable about that."
Skiles said tweeting players also are being encouraged to be cautious about what they write.
"Don't put your personal business out there and don't put your team business out there," he said. "You shouldn't be telling people where you're going on a given night."
Center Andrew Bogut called the new rule "totally fair."
"You're on business hours. If I ran a business and went to an office and I saw my colleagues, my workers, on Facebook and Twitter, I wouldn't be too happy," said Bogut, who uses Twitter to help keep up with his friends and family in Australia. "I've never even thought about Twittering at the arena or when I'm about to suit up."
The Miami Heat
The Miami Heat have taken basically the exact same stance on Twitter use.  In fact, the policy guidance has come from the NBA, while giving some leisure to the teams to set their policies if they see fit.
From the Miami Heat, "We'll have strict rules on it," Heat coach Erik Spoelstra said Monday at the team's media day. "The NBA has put in strict rules about it. Social media, we will not accept that in our building during office hours. That's the way we'll look at it when we're coming to practice, to shootarounds and to games. We're coming to work and we're coming to get a job done. That's not time for social media."
Dwayne Wade, who Tweeted at 10:05 Monday morning that he was heading to his first day of work of the new season to his 96,348 followers on Twitter, had the following comments about the policy from The Miami Heat, "When you come to work, you come to work," Wade said. "You can tweet before, you can tweet after. It's not addicting like where I'm going to take a bathroom break, go downstairs and tweet. I think people take it a little too far with that. But I think it's very good to have communications with your fans, personally. A lot of people, you can see them in a different light."
Summarizing The NBA Policy Trend on Twitter
It sounds like, for the NBA anyway, that the policy goes as follows:  what you do on your own time is your business, but while you're on the clock and working, Twitter is not allowed.  But also, remember that whatever you do say on Twitter can come back and bite you if you're not careful – so be smart about what you're saying because it could get you in trouble, even if you're not on the clock.