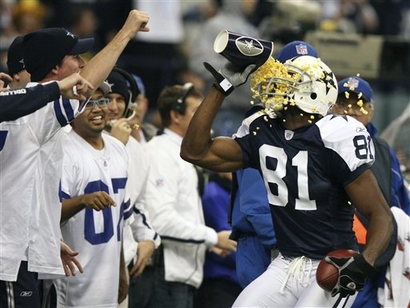 On Sunday, Terrell Owens did something that he hasn't done in last 185 games he's played – he failed to catch a single pass.  To make matters worse, the Buffalo Bills ended up losing to The New Orleans Saints.
What seemed to upset T.O. the most however came after the game when NBC football analyst Rodney Harrison made the following statement:  "Owens is a clown, he's all about the circus show and the cameras, and it's all about that."
So what did Terrell Owens do to fire back at Harrison?  He turned to Twitter on Sunday night (follow T.O. on Twitter >> @terrellowens) and launched the following:
I could less about Rodney Harrison! Anybody tht using steroids, yes STEROIDS rodney, is a cheater & cheated the game!
Is tht Y u used steroids b/c u were worried about ur stats or ws it b/c u were losing it? Lol! U're a loser & a cheater? Got any steroid …
Hey rodney! Send me sum steroids 2 the Bills facility next week!
Since I kno the media reads my tweets, will sum1 ask rodney how long the cycles take b4 I feel results of the steroids whn he sends em? Lol!
Hey Rodney if I really considered using them, could u please lv instructions on how & where 2 stick the needle just like u did 2 assure …
My bad Rodney! I hv been corrected by ur supporters, u used HGH nt steroids! So, every1 go ahead & use HGH!! Geez, I guess tht makes it …  [source: Freep.com]
The good thing here is that Owens was apparently on his "own time" and not using Twitter from the locker room.  At least according to the NBA Twitter use policies, this would be ok.