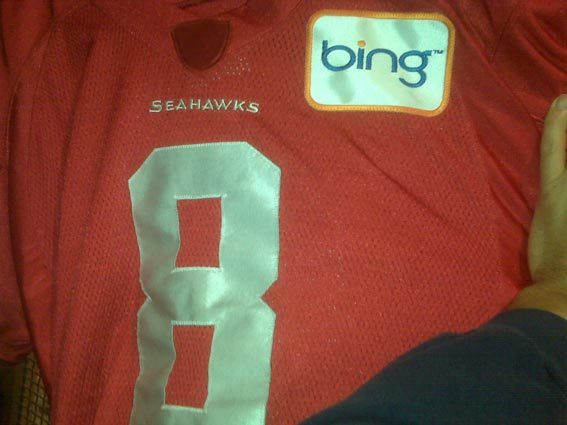 The concept of sponsors placing their logos all over sports figures is nothing new.  Look no further than Nascar!
I mean, those cars are are literally painted the colors of sponsors – I think of the Tide car as an example.
But what would you say if sponsors started covering the jersey's of NFL teams?  Well, regardless of what you think, the ice has been broken by none other than Bing (Microsoft's hot, new search engine).
Bing has contracted with the Seattle Seahawks to place their logos on their jerseys.  Granted, the logos are only going to be placed on the Seahawk's practice jerseys (for now).  But the fact that Bing (Microsoft) has actually made this a reality with the Seattle Seahawks, seems to open the door to more sponsors covering the jerseys of NFL teams – and perhaps even game jerseys…. why not?
"The Seahawks and Bing are a perfect brand match," Seahawks CEO Tod Leiweke told Byron Acohido of USA Today. "We viewed the available space on our practice jersey as sacred, not simply a billboard opportunity, and reserved it for a partner that shares our core values."
So what do you think about NFL teams placing sponsor logos on their jerseys?  Do you agree with this?  Do you think Bing has opened the door for more of this sponsorship activity with the NFL?