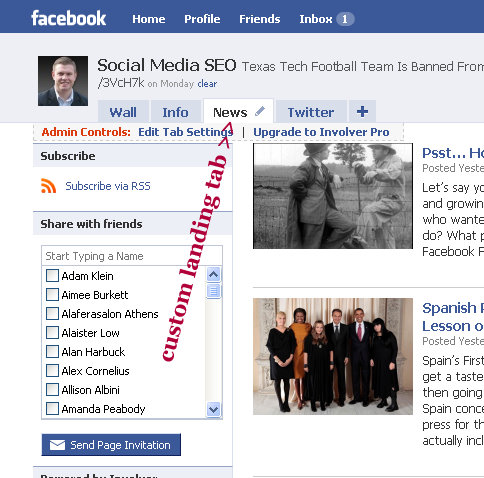 So you finally launched your Facebook Fan Page but you don't want people to land on your wall tab.
Instead you would rather have people land on your news tab, or info tab, etc…
Designating what tab on your Facebook Fan Page is super easy to do, and it provides a lot of control over what people see first when they land on your page.
Especially if you're a business, product, or service with a Facebook Fan Page and you have a tab specifically designed to promote your business.
Having people land on that tab first could be invaluable to you.
Here's how to set / designate what tab visitors land on first when visiting your Facebook Fan Page:
1) First and foremost, you must be an admin of the Fan Page you desire to work with
2) Go to your Facebook Fan Page and click the "edit page"  link directly under your Fan Page image or logo.  This link is typically the first one listed directly under you image or logo.  Again, if you aren't the admin to the page, you will not see this link.
3) After you've clicked "edit page" you will now be looking at the admin dashboard for your Facebook Fan Page.  Find the option for "Wall Setting" > look to the right for the pencil icon > click the pencil icon > click "edit"

4) Now you're looking at the your "wall settings".  Find the section here that's called "Default Landing Tab for Everyne Else".   This "everyone else" is making reference to those who are NOT fans of your Facebook Page.
5) Click the drop down box and you'll see the list of your tabs for your Facebook Fan Page.  Go ahead and chose which tab you want non-fans to land on when they visit your Facebook Fan Page.
And that's it!  As soon as you select the specific tab, your Facebook Fan Page automatically saves changes.
Test the new tab
The easiest way to test your new tab is to get someone who is not currently a fan of your Facebook Page and ask them to visit it.  Then have that person tell you what they see and what tab they landed on.
If you have any questions, please don't hesitate to put them in the comments.
Also, let everyone know some creative ways you're using custom land tabs for your Facebook Fan Page.