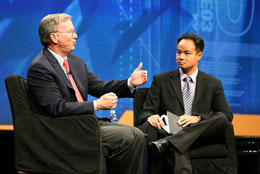 During an onstage interview yesterday at the Gartner Symposium / ITxpo in Orlando, Eric Schmidt, Google CEO, confirmed that the Google Chrome OS (operating system) is coming within the next year.
Here are some quotes from Eric Schmidt during the onstage interview yesterday that relate directly to the Google Chrome OS:
"the netbook is arriving–in particular, netbooks running Google's forthcoming Chrome OS, a browser-based operating system."
"Maybe in a year it'll be possible for procuring a Netbook that costs a factor of five or 10 times cheaper than what you're getting today… Chrome OS is due to arrive on netbooks in about a year."
The term "netbooks" in association with Google Chrome OS means that the operating system is going to be more web integrated, versus the current Windows OS which is strictly PC / local operated.
The Google Chrome OS is sure to be a game changer in the world of computing.  Now with consumers having a choice to ditch Microsoft, Google Chrome OS is definitely going to appeal to users.