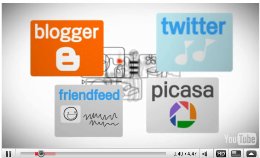 Check out Google's new Google Social Search experiment.
Google wants you to be able to quickly and easily find content from within your "social circle" (a Google term).
What makes up your social circle?  Anyone who you interact with, follow, or are friends with on social networks.  So sites like Facebook, Twitter, MySpace, FriendFeed, etc.., and your friends and connections therein, are what Google is calling your "social circle".
Google Social Search is a Google experiment to help you find publically available content from your "social circle" quickly and more easily in Google!
Here's how you get started:
1)  First you need a Google profile setup.  To do this, you need a Gmail login or basic Google sign in credentials.
2)  Once signed in to Google, click in the upper right hand corner on "Settings" and then click "Google Account Settings" from the drop down menu.
3)  Now you should be looking at a dashboard type page.  In the upper left hand corner, you should see "edit profile" – or if you've never set up a profile, you should see something like "start your profile".
4)  Now you need to go into "edit profile", and the main area you're looking for to integrate Google Social Search is the "Add custom links to my profile".  Go ahead and add all of your social networking profile URL's – so your Twitter profile URL, your Facebook Fan Page URL, your Facebook Profile URL, etc…  This will allow Google to crawl, index, and associate content from your social network to your Google Profile.
5)  Now go over to the Google Lab's Experimental section and join the Google Social Search experiment.  You can only join one experiment at a time so don't get side tracked while you here – just join the social search experiment and move on :-)
6)  Once you've joined the social search experiment, and you've updated your Google profile with all of your social networks, then just wait a few hours for everything to sync into your profile.
7)  Now just go to Google.com, conduct some searches, and scroll down to the bottom to see if you're social circle content (content from your friends, followers, etc… ) is showing up in the search results!
The results will appear at the bottom of the search results page.
Here are a couple of videos for you to watch about Google Social Search:
How Google Social Search Works:
Social Search Demonstration