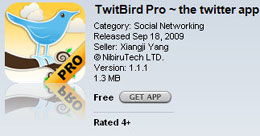 If you fit the following 3 molds, then this article is perfect for you:
1) You own an iPhone
2) You love using Twitter
3) You're broke
So if that describes you, then I have a perfect Twitter iPhone App for you to check out.  It's called TwitBird Pro, and as iPhoneFreak.com pointed out recently, the price for this app has dropped from $3.99 to $0.00 !
That's right, TwitBird Pro is now 100% free.  Just visit the App Store here, plug your iPhone into iTunes, and download it.  Or just visit the App Store on your iPhone and search "twitbird pro" and go from there!
You can read a more detailed description about TwitBird Pro at 148apps.com, but here a quick overview:
Multiple Accounts
Push notification for mentions and DM between TwitBird and TwitBird Pro users
Badges to show number of unread tweets
Landscape mode supported everywhere
Landscape inline browser
Address Book
Group feature
Cached tweets for faster loading