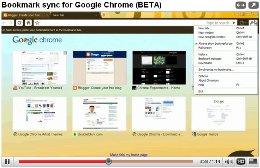 Ok – so I just loaded the new Chrome web browser version 4 – which is still in beta.
But let me tell you, this browser is smokin' fast!
You can try it out for yourself by downloading it here.
Here's a video that highlights the new features of Google Chrome 4 (beta):
For those of you who use several computers — for example, a laptop at work and a desktop at home — you've asked for a way to keep your Google Chrome bookmarks in sync across multiple computers. Today's new Google Chrome beta release allows you to do just that! You can keep your Google Chrome bookmarks synchronized and up-to-date across the multiple computers you use, without needing to manually recreate your bookmarks every time you use a different computer.