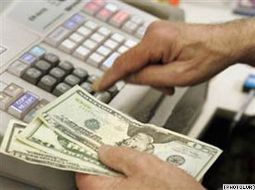 Google's Buying Spree
Google has been on a bit of buying spree today.
Earlier today, Google agreed to acquire AdMob, a fast-growing start-up that developed technology to place ads on mobile phones, for $750 million in stock, the company said Monday. [source: NYTimes]
And now Google just announced they have agreed to buy the voice over IP startup Gizmo5 for $30 million in cash, according to TechCrunch, which attributes the story to "sources," and says the deal will be announced soon. [source: TechCrunch]
Combined Total Just Today
The AdMob deal is reported to at $750 million, and the Gizmo5 deals is said to be for $30 million.
Taking the total for today's acquisitions – and amount spent by Google – to $780 million.
And that's only what we are reading on the news wires.
Clearly Google sees the economy turning around.  And from that point of view, they see companies right now at the premium, especially when factoring in the services and collaboration they can offer existing Google products.