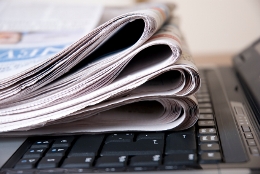 News Corps Quest For Paid Content
The issue of paid content vs. free content is growing more relevance and traction.  Today, News Corp. (NWS) CEO Rupert Murdoch said the company will eventually remove stories from Google's (GOOG) search index as a way to encourage people to pay for content online, according to a story in the Guardian, which apparently was based on an interview Murdoch did with Sky News Australia. [source: Barrons]
Here are some of the news sites that News Corp publishes:    The Wall Street Journal, The Times of London, the New York Post, the Sun, Barrons Online, and others.
Paid vs Free Content
I'm of the opinion that people will pay for online content, just not enough to make any substantial business model profitable for such a large organization like News Corp.
The void left means great opportunities open up.
With publications like The Wall Street Journal's online version leaving Google's index, this creates not only a void, but a huge opportunity for citizen journalists to fill the gap.
If you like to write, then now would be a good time to start your blog and start building an audience.
The massive of online users aren't going to want to pay for content.  Most people just want to get online, search for news and information, and get it – that fast!
With large publications leaving the web, huge opportunities open up for all publishers, both large and small.
Yahoo.com Is A Great Example
Yahoo is a great example of high quality news content producing revenue.
The Yahoo business model of late has been to produce high quality news and journalism, generate massive page views on the content, and create a revenue stream from that traffic.
This is the same opportunity you – as a publisher – have with your own content.
So find a news / content niche, start a blog, and start producing fresh and relevant content – you could perhaps catch the windfall created by large publications disappearing from the web!